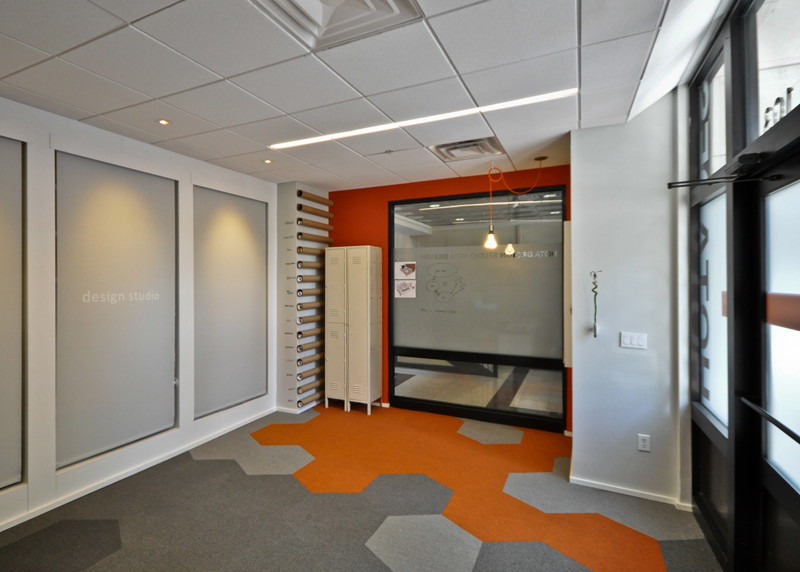 HOTA Design Studio
A space which was once an ice cream shop, tattoo parlor and barber shop is now home to Hota Design Studio, LLC. After seeing the space vacant for years, the principals of Hota Design saw this space as their future office. With a little bit of work and ingenuity, Hota Design principals were able to transform this 250 SF space into a space capable of accommodating multiple functions. One 12′-0? wall lent itself perfectly to accommodate where the principals would sit, side by side with a lower collaborative middle return. With a space this small, every square foot counted,î so Murphy style tables were incorporated in the design. One comes down from the center niche and becomes a conferencing table, which also doubles as a third workstation, and another, which seems like a piece of artwork, comes down and becomes a project layout space.
Adjacent to the project layout space is a writable window film which obscures the visibility from a common hallway and serves as a surface where design ideas and thoughts are figured out. Hota Design used old plotter paper rolls and line them up a wall to house current drawings they are working on maximizing vertical space. On the vertical wall next to the plotter rolls, a writable paint finish was used to identify projects, which can be easily erased and revised as projects get archived. The existing space had three niches that would serve perfectly as their resource library.
Hota Design incorporated a remote controlled motorized shades which can go up or down at a push of a button, or phone app. ìThe resource library is usually messy, this way we can just lower the shade before a client comes in and the space still looks well kept.î These are just a few of the design details Hota Design incorporated in their new office. Hota Design was able to design a small space efficiently, maximizing every square foot. Hota Design Studio would like to thank the following manufacturers who helped make their space a success. Without them, their vision would not have been possible.
Shaw Contract Flooring, Total Office Solutions, National Office Furniture, AllSteel, Crestron, FulTech Solutions, Ardd + Winter Lighting, Lucifer Lighting, Humanscale, Wolf Gordon, DXM Marketing Group, Armstrong Ceilings.