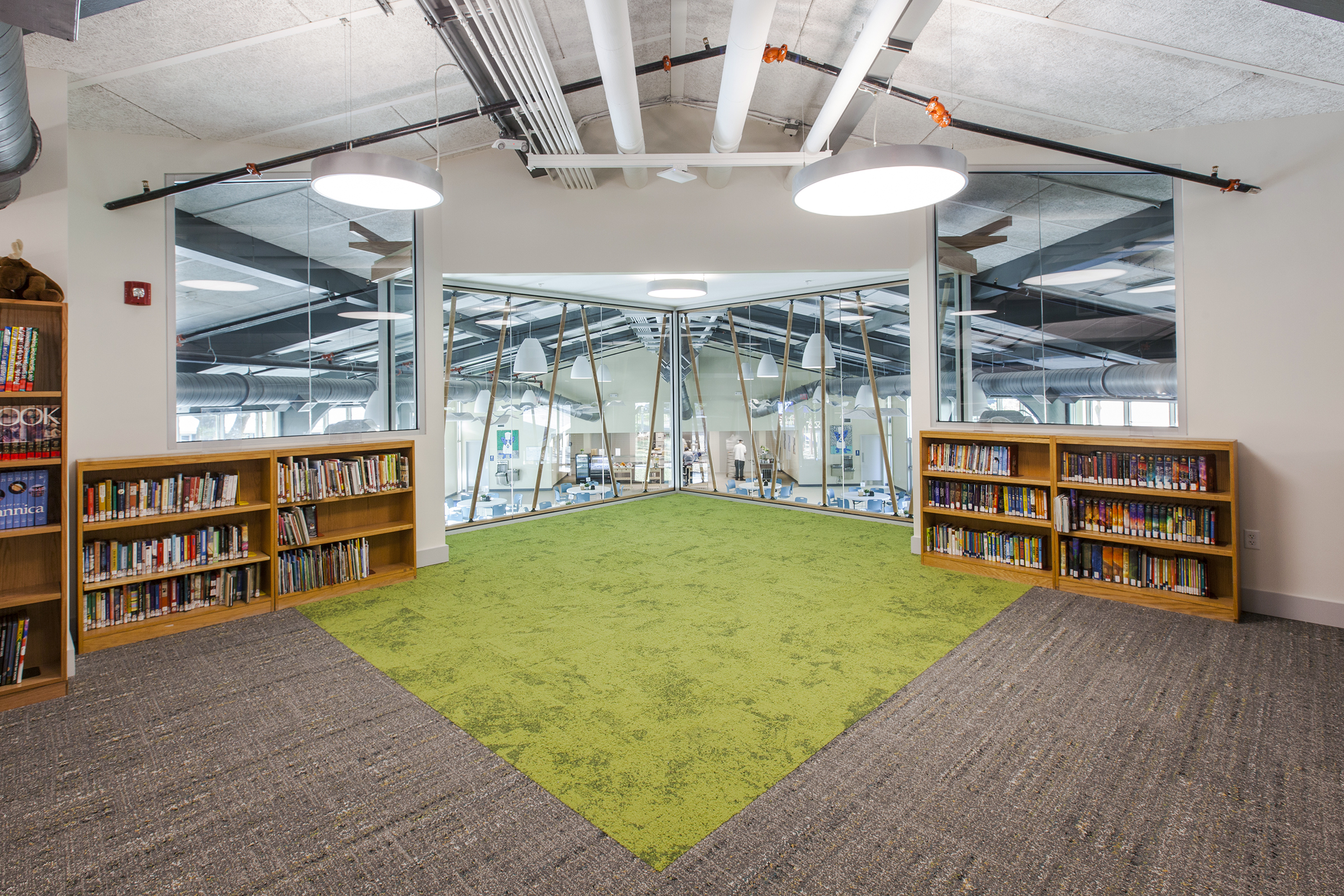 JCDS
The Project Design consisted of the renovation of multiple departments located within the Central Building on this Pre-K thru 6th grade Campus. The program identified approximately 17,000 sf of existing space which housed the Welcome Center, Administration / Admission, Infirmary, Media Center/ Library, Dining,Kitchen and Core Restrooms. The overall design would reinforce their strength inboth curriculum and brand identity.
The Welcome Center, Administration and Admissions were relocated with the overall approach to the campus along with security in mind. A new drop of zone determined the appropriate relocation of these departments. The spatial flow was such that adjacent department were free flowing; providing intermediate spaces to become shared withalternative teaching / learning opportunities. The heartbeat of this programming was the Library / Media Center and its relationship with the Dining Room. The goal was to create a space that differentiated itself from the core curriculum. The Dining experience was to be Family Style while the Library was to be more "playful".With the idea of providing blended spaces, the approach was to blur the boundaries between the two spaces. The natural change in site elevation provided opportunities for these adjacent spaces to intertwine at different levels. This concept was reinforced with the design of an "overlook" from within the Library that would stretch into the dining area; creating a multi-purpose spaces below. The cascading stairs leading from the Library became a monumental descent expanding one space into the other. The width was designed to expand the further you entered and providing opportunities for gathering. As a core space for both the campus and surrounding community use, perimeter walls were replaced with full height glazing that created visual connections with the campus proper.
An entirely new commercial kitchen design was provided to reinforce the evolution of their food services. Additional ancillary space such a core Restrooms were provided with this renovation.
More Images: